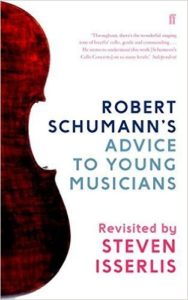 Robert Schumann was far ahead of his time, not least in his attitude to children and young people; his 'Advice for Young Musicians', originally created to accompany his famous 'Album for the Young', remains as relevant today as when it was written.
Steven Isserlis adds his own extensive commentary to Schumann's words of wisdom. The advice is by turns practical, humorous, and profound, making this volume a must for all aspiring musicians of all ages and standards.
Love for his art sings from every page of cellist Steven Isserlis's new book. He has seized on Robert Schumann's fantastically instructive Advice to Young Musicians to create a tome far wider in scope […] It's hard not to be swept along by his charismatic brand of wit, enthusiasm and sheer devotion to his subject, in a book that should be on every music lover's Christmas list.
– Catherine Nelson, The Strad
No musician or music lover should be without it.
– BBC History Magazine
How much musical wisdom can be packed into one slim volume? Isserlis has taken Schumann's aphorisms for young musicians and set them in a modern context from the point of view of one of today's outstanding performers. The result is humorous, down-to-earth and quirky.
– Richard Fairman The Financial Times Books of the Year
Cellist Steven Isserlis, a great Schumann devotee, has adapted the composer's slender volume of aphorisms for the budding musician and added thoughts of his own that amplify them for the 21st century. They are beautifully turned and succinctly expressed. "Nothing great can be achieved in art without enthusiasm," Schumann declares. Isserlis, noting that the business of music can sap that enthusiasm, responds: "That makes it all the more important, then, to remember why we wanted to be musicians in the first place: because music lives in our hearts. And we have to keep it there.
– Jessica Duchen JDCMB Books of the Year
Steven Isserlis updates Schumann's beautiful words of wisdom. […] With deft prose – clear enough for children, profound enough for professionals, he mediates concisely on Schumann's pointers towards essential musicianship. […] No musician or music-lover should be without it.
– BBC Music Magazine
Not just a handbook for young musicians, this delightful and wise book is a manifesto for all musicians, music teachers and music lovers, one which one can read in a single sitting, or dip into at one's leisure to extract a nugget.

Highly recommended.
– The Cross-eyed Pianist
This is a book which wears its learning and wisdom lightly, and makes a charming and informative read. It should be essential reading for music lovers everywhere.

– Planet Hugill
Order on