Haydn & CPE Bach: Cello Concertos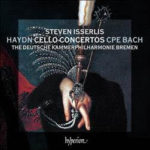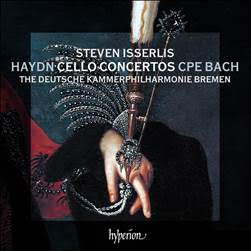 Buy CD and Download from Hyperion
Buy from Amazon
Download from iTunes
This one was a bit of a risk, since I recorded the Haydn concertos for RCA some 20 years ago – with the Chamber Orchestra of Europe under Roger Norrington – and that still seems to be somewhat available. But I wanted to record them again, with the uniquely committed, musicianly orchestra with whom I've had a long association, the Deutsche Kammerphilharmonie; and this time I directed them myself – in effect, playing the concertos as chamber music on a large scale. I also wanted to add CPE Bach's glorious concerto in A major – a work of extraordinary beauty, which I hadn't recorded before. There was still a tiny bit of room available, so we added two little extras: the magical slow movement of Boccherini's concerto in G, and my own arrangement (made on impulse after I attended the opera) of an aria from Mozart's youthful masterpiece La Finta Giardiniera. I was a bit nervous about how this album would be received (if it was noticed at all); but I've been pleased and reassured by the comments so far. Well, it is all utterly wonderful music; and it was a very special experience to spend time making music with the Deutsche Kammerphilharmonie…
The Complete RCA Recordings – 12-CD set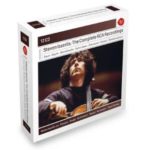 Buy from Amazon
Download from iTunes
Well! I was very surprised to see the release of this box set mentioned on Twitter – I had had no idea that it was coming out. And at the time of writing this, I have still not been sent a copy! But still, I am very glad that it's available; these recordings were all like children to me – as recordings are to the musicians who make them – on which we all expended a lot of effort at the time. So I'm very happy that they're still around, and not just hiding in some dusty secondhand store…
For The Love of Brahms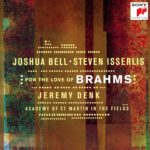 Buy from Amazon
Download from iTunes
Josh and I have been friends and partners in musical crime for almost 30 years now – another shocking thought. As I often say, he is like a younger brother to me (he likes to lay emphasis on the word 'younger' in that sentence…) – with all the closeness and occasional mutual irritation that involves! We've been playing the Brahms Double concerto for most of those years, and since the concerto is in a way 'about' an old friendship (if abstract music like Brahms' can be 'about' anything), it felt good to tour and then record it. Also, we were able to add a curiosity that I'd noticed in a catalogue of Britten's unpublished works: a version by Britten of the slow movement of Schumann's violin concerto, with a short coda by Britten himself. (The original moves straight into the finale.) Many years ago, I nagged Josh until he learned the Schumann concerto; and once he did, he fell in love with it (of course) – so again, it felt right to record this movement, for which I played the opening cello melody as a solo. Finally, we recorded the rarely-heard original version of Brahms' trio in B, op 8, with Jeremy Denk. Both Josh and I actually prefer this version to the later, more famous and polished one. I THINK that Jeremy was convinced by it in the end; he played it beautifully, anyway.
Elgar & Walton Cello Concertos
Buy CD and Download from Hyperion
Buy from Amazon
Download from iTunes
Shockingly, it has been well over 25 years since I first recorded the Elgar concerto (with the late, much-missed Richard Hickox); so I thought that it was time to do it again. Also, I was very keen to record for the first time one of my very favourite cello concertos, that by William Walton. It is a truly magical masterpiece. Also, since there was time left over on the disc, we were able to add a lovely piece by Gustav Holst, 'Invocation'. I was invited to give the first modern performance of this by Holst's daughter, Imogen, whom I knew well. And there was even space on the disc to add a poignant work for solo cello,' The Fall of the Leaf', by Imogen herself, which I learned for her 70th birthday concert in Aldeburgh in 1977. About time that I recorded it!
Bach/Handel/Scarlatti Gamba Sonatas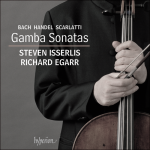 Buy CD and Download from Hyperion
Buy from Amazon
Download from iTunes
The Bach gamba sonatas do not make a self-contained set, as do the six Bach suites; they are really three individual works. But what works! And it was good finally to record them with Richard Egarr, a wonderful harpsichordist who transcends the limitations of that instrument. It was also satisfying to record Handel's only sonata for the gamba, and to add an arrangement of an extraordinary violin sonata by Domenico Scarlatti. What a genius he was! And this – one of the very few violin sonatas found among his vast collection of keyboard sonatas – is pure Scarlatti: wild, eccentric and irresistible.
Mendelssohn/Grieg/Hough with PH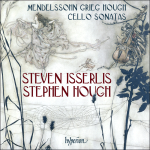 Buy CD and Download from Hyperion
Buy from Amazon
Download from iTunes
It is always such a pleasure to spend time with my old friend Stephen Hough (PH, as I call him); and this recording was no exception. I am proud to say that on this session there was only one enforced break because of uncontrollable giggling – and he was the first to lose it, not I. We recorded two romantic sonatas that we both love, by Grieg and Mendelssohn; and a fascinating and atmospheric sonata by PH himself, for cello and piano left-hand. I originally suggested the idea of a sonata with piano left-hand, in order to play it with another pianist-friend who had lost the use of his right-hand; but that friend then recovered – so thus far I have only played it with PH. But he does seem to understand the music rather well, for some reason – so that's no hardship!
Prokofiev & Shostakovich: Cello Concertos
Buy CD and Download from Hyperion
Buy from Amazon
Download from iTunes
'This disc is rather different from most of my others: for a start, I used steel strings (a first for me) – and somehow the nature of the music here is a lot less lyrical, more percussive than most of the repertoire I enjoy playing. but I love these pieces! The Prokofiev concerto opus 58 is a rarity – not completely unknown, by any means, but somehow unappreciated, I feel. Prokofiev used most of the themes in the concerto for his later Symphony-Concerto (otherwise a very different piece), and somehow the latter work has made it into the standard repertoire while the original concerto has been left in the cold. Many years ago, I made the decision to learn one, but not both, of the two works. It so happened that my great friend Olli Mustonen – whose understanding of Prokofiev's music is extraordinary – was staying with me; so I gave him the two piano reductions, and told him to decide which I should learn (I hate making decisions). He kindly spent about an hour looking at them – and then advised me to learn the concerto, because he found it to be the more satisfying of the two. And now I really agree with him. Powerful though the Symphony-Concerto is, it seems to me that the Concerto is bolder, more innovative and ultimately even more fascinating than its younger sibling. I would be thrilled if this disc helped the concerto enter the standard repertoire. As for the Shostakovich concerto: is there a more exciting work for cello and orchestra? I doubt it. I find it thrilling to play, thrilling to hear; no sense of experimentation here – just bold mastery. I think that these works go excellently together (well, of course I do – that's why I recorded them together!), despite the striking differences between the two composers. And it was lovely to record with the Hessische Rundfunk orchestra – the German orchestra with whom I have had the longest relationship – under the amazing Paavo Jarvi, with whom I have been playing (working?) for well over 20 years. So – I hope you like it!'
Beethoven Sonatas and Variations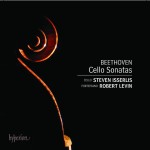 Buy CD and Download from Hyperion
Buy from Amazon
Download from iTunes
'Recording the greatest works ever composed forcello and piano is quite a challenge! Although I have played most of the sonatas for more years than I care to remember, it was not until comparatively recently that I became utterly engulfed, entranced, ensnared and enchanted (as well as lets of other words beginning with 'en' – but you get the point) by Beethoven. I can't really pinpoint any moment at which I had an epiphany, and realized that this music had become one of the most important things in life for me – although performing the cycle with Robert Levin for the first time almost ten years ago was certainly a step in that direction. It's a cliché, but a true one, that Beethoven tends to become more and more important in a musician's life as he or she grows older. My friend, the much-missed John Tavener, always resisted Beethoven furiously – until his last years when, in frailty and pain, the late quartets became a real lifeline to him.

Playing Beethoven fills me with a joy I find hard to describe. There is a strength to his music, a radiance of spirit, that is like nothing else. The late sonatas are of course the most profound and moving of these cello and piano (or, more accurately, piano and cello) pieces; but the world would be very much poorer without the earlier works, too. The might of Beethoven's soul permeates every note of all these works. And the glorious A major sonata, the only work from this collection to date from his 'middle' period, is a perfect masterpiece.

I was lucky enough to perform the whole cycle with the great performer and scholar Robert Levin five times in the run-up to these recording sessions. We rehearsed and rehearsed – and didn't stop discussing (and occasionally arguing!) throughout the recording sessions. I HOPE that all this work paid off – that is for the listener to decide. Robert played on a wonderful McNulty copy of an 1805 Walter fortepiano. Of course, for those used to a modern piano, the sound may come as a surprise; but I urge you to keep listening to it. It is not so much the historical accuracy of the sound that convinces me; it is more the clarity, the purity, and the sheer unbridled passion that can be released, without the worry of drowning the cellist that must inhibit every player on a modern instrument. I still enjoy playing these sonatas with modern piano (well, any excuse to play Beethoven is welcome!); but playing with this fortepiano was a different experience, and one that I loved.'
Julius Isserlis: Piano Music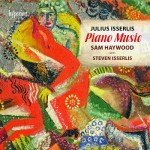 Buy CD and Download from Hyperion
Buy from Amazon
Download from iTunes
'Although my only contribution to this disc was torecord one 9-minute piece on this disc, it is a project close to my heart – not surprisingly. The music, of course, is by my grandfather; the producer was my oldest sister Annette; and the sleeve-notes are by our middle sister Rachel. A family affair, in fact.  Furthermore, Sam Haywood, whose disc it is, was a favourite pianist of our late father; and his wife Sophia runs this website!

We are very grateful to Sam for falling in love with these pieces, and playing them so persuasively. Everybody who has heard this recording so far seems to have been utterly charmed. The pieces are melodious, warm-hearted and beautifully crafted – and oh, SO Russian! I was always told what a wonderful man Julius was – and one can hear it in this music.'
Dvorák: Cello Concertos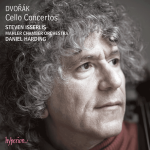 Buy CD and Download from Hyperion
Buy from Amazon
Download from iTunes
'I first started learning the great Dvorak concerto at the age of 12 (to my father's horror! He thought that by attempting it too early I'd ruin any chance I might have of playing it properly one day) and then performed it at the age of 14. But I've put off recording it for many years – well, it is the most famous of all cello concertos, so I was right to be wary. But finally I've taken the plunge – all I can say, really, is that I hope that people like it! It is one of the most moving and glorious of concertos for any instrument, and has given me so much joy over the years. Also – as a little boy, I was fascinated by the fact that Dvorak had written an earlier concerto; when the Gunther Raphael version (much revised from the original, but to my mind judiciously so) was republished in the late 70s, I eagerly snapped up a copy, and spent my first semester at Oberlin College learning it. Of course it's not a rival to the great concerto – but it's a charmer in its own right: warm-hearted, tuneful and loveable. I'm very pleased to have made what seems to be the premiere recording of this version; I hope that other cellists take it up.'
In the Shadow of War
Buy CD from BIS
Buy from Amazon
Download from iTunes
'This was a disc on which I got to re-record, after some 25 years (gulp), two wonderful works inspired – if that's the word – by World War 1. Bloch's Schelomo is the more famous of the two, with its innovative use of Jewish idioms creating a vast, impassioned musical epic. Frank Bridge's Oration, though, is equally masterly, in its more austere way. I'm glad that I got the chance in the sleeve-notes to set out my personal view of this tragic masterpiece; I can't understand why it's not played more often – in its way, it is as great a work, I think, as the Elgar concerto. The disc is completed by a beautiful piece, also rooted in WW1, by my great friend, the irrepressible Mr Hough.'
Lieux retrouvés
Buy CD and Download from Hyperion
Buy from Amazon
Download from iTunes
'Thomas Adès is a phenomenon: unbelievably gifted composer, wonderful conductor, and amazing pianist. It's really not fair AT ALL. But still, I was delighted to make this disc with him, of his own irresistible (and hideously difficult!) new piece for cello and piano, Lieux retrouvés, and works by composers who have influenced him: Liszt, Janáček, Fauré and Kurtág. I have been lucky enough to work extensively with the great Hungarian composer  Gyorgy Kurtág over many years, and have learnt so much from him (as has Thomas). I am happy to have recorded here four of his miniature masterpieces for solo cello.'
reVisions
Buy CD from BIS
Buy from Amazon
Download from iTunes
Steven Isserlis with the Tapiola Sinfonietta and Gabor Takacs-Nagy
'This was a very personal project for me in many ways, partly because all of these transcriptions
were made at my request. They range from Sally Beamish's witty and charming reconstruction of a lost Debussy suite for cello, to a set of pieces I find as touching as anything written for the cello,
Bloch's suite 'From Jewish Life'.
Schumann: Music for cello and piano
Buy CD and Download from Hyperion
Buy from Amazon
Download from iTunes
'For all that Isserlis has made many wonderful recordings, not least his seminal Bach suites, I think this might just be his finest yet'

(Gramophone)
'Even I don't quite understand why I'm SO obsessed with Schumann – but I am! I love everything about him, and virtually every note he composed. He is Denes's most beloved composer too, so it seemed natural for us to do a new disc of all his works for cello and piano, and some arrangements – including my labour-of-love transcription of his rarely-heard third violin sonata, a work which remained unpublished until 100 years after Schumann's death. An added bonus (for me) for this recording was that I was lucky enough to have two Strad cellos available for it, the 'De Munck' and the 'Marquis de Coberon'. I divided the pieces pretty evenly between them; it would take a VERY sharp pair of ears to differentiate between them, though.'

Bach: Suites for Solo Cello
Buy CD and Download from Hyperion
Buy from Amazon
Download from iTunes
'I finally dared do it…'
Brahms: Cello Sonatas with Stephen Hough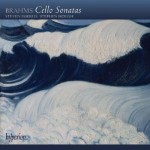 Buy CD and Download from Hyperion
Buy from Amazon
Download from iTunes
'Having not recorded for 2 years or so, it feltvery good to go back into the studio with Stephen and to revisit repertoire that I first recorded 21 years ago – groan. It's always so wonderful to play with Stephen, on a personal as well as a musical level. Good also to record the Dvorak pieces (we actually recorded his Polonaise as well, but unfortunately discovered subsequently that it couldn't fit onto the disc) and the little gems by Suk.'
Saint-Saens: Cello Concertos Nos. 1 and 2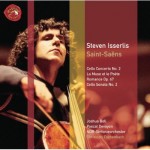 With the London Symphony Orchestra and Michael Tilson Thomas
La Muse et el Poete – with Joshua Bell, violin
Suite for Cello and Orchestra Op. 16 with NDR Sinfonieorchester and Christoph Eschenbach.
'This is mostly reissues; but I was glad, several years after it was recorded and edited, BMG managed to locate and then issue the Saint-Saens Suite, Op. 16. At one stage, they seemed to have lost the tapes! It's a lovely piece.'
Rachmaninov/Franck Sonatas
Buy CD and Download from Hyperion
Buy from Amazon
Download from iTunes
'I first started playing the Rachmaninov Sonata when I was about 11 and used to play it with my Russian Grandmother. She remembered perfectly the performances gave with Brandukov, the work's dedicatee, so perhaps it's not surprising that I feel a close affinity to this work.'
Cello World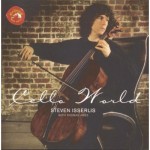 A selection of short pieces for cello and arrangements, with Thomas Ades, Dame Felicity Lott, Maggie Cole, Michael Tilson Thomas, Dudley Moore
'Well, I did enjoy making this disc, with so many friends; this is the one I usually give to people I like! And it's full of my son's favourite cello pieces, which for me is quite an added attraction.'
Schumann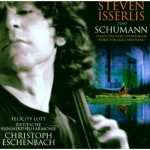 Cello Concerto, works for cello and piano, 'Offertorium' from Mass in C minor; Bargiel: Adagio, with Deutsche Kammerphilharmonie, Christoph Eschenbach, Dame Felicity Lott, David King
'Being a Schumann nut, I thought long and hard about recording the cello concerto – and I'm glad to say that I found the perfect partners in the DK and Christoph Eschenbach. Also, it was very nice to be able to include a piece by Schumann's brother-in-law, Bargiel – good to keep it in the family.'
Brahms/Frühling/Schumann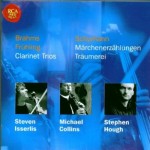 Trios for clarinet, cello and piano, with Michael Collins and Stephen Hough
'See my "enthusiasms" for my feelings about Mr. Frühling – it was a real thrill to be making the first-ever commercial recording of his music; and Messrs. Collins and Hough are among my most frequent partners in musical crime – so I'm happy that this recording exists.'
Elgar / Bloch / Kabalevsky / Tchaikovsky / R. Strauss

Works with orchestra, with various orchestras and conductors
'A slightly mixed bag – but it's cheap, and the pieces are great! The Kabalevsky is a

thrilling concerto, I think – I don't understand why it's so rarely played.'
Faure: Complete Works for Cello, with Pascal Devoyon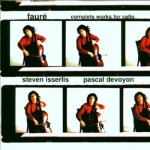 'I love Faure so much! Pascal and I recorded a lot of this repertoire for Hyperion, but I was very disappointed with the result, partly because of poor sound; this BMG recording is a huge improvement, I think. For me, the sonatas are among the greatest works for the cello.'
Haydn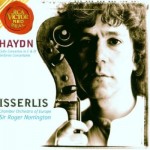 Cello Concertos, Sinfonia Concertante, Adagio cantabile, with soloists, Chamber Orchestra of Europe, Sir Roger Norrington
'This one actually sold some copies!  Wonders never cease. I love Haydn's freshness and humour – what a marvellous man he must have been.'
Janácek / Prokofiev / Shostakovich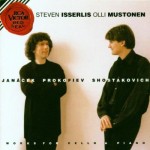 Works for cello and piano, with Olli Mustonen
'It's always exciting to play with my friend Olli Mustonen – and doubly so in this case, because we were making the first recording of the first version of Janacek's "Fairy-Tale" '
Saint-Saëns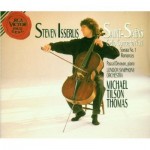 Concerto for Cello No. 2 / La Muse et le Poete / Romance / Cello Sonata No. 2, with 'Joshua Bell, NDR Orchstra, Christoph Eschenbach
'Little-known music by Saint-Saëns –  all of it is beautiful, but the real gem is the piece for violin, cello and orchestra, "La Muse et le Poete". It was great that Joshua Bell was transferred from Sony for that one piece!'
Strauss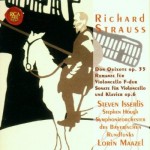 Don Quixote, Romance, Cello Sonata, with Stephen Hough, Symphonieorchester des BR, Maazel
'I had never met Maazel before these sessions took place, so I was nervous – but he couldn't have been more charming! It was a really enjoyable experience. And an added luxury, of course, to record the sonata with the wonderful Stephen Hough –  even though he mis-spells his own first name.'
Tavener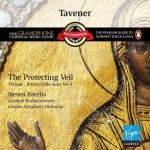 The Protecting Veil, Thrinos, Britten: Suite no.3, with LSO, Rozhdestvensky
'This was called a 'cult' recording – hmmm… not by me. For me, "the Protecting Veil", even without the religious programme, is a gorgeous, romantic piece of music; the first performance was one of the highlights of my concert life – so exciting to realise that the work had captured people's imaginations.'