'Why Handel Waggled His Wig'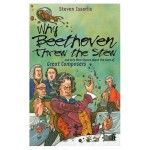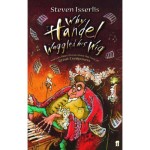 First published in May 2006 by Faber and Faber Limited
(Sequel to 'Why Beethoven Threw the Stew' first published in 2001, also by Faber and Faber)
About the Author
Interestingly, Steven Isserlis was born knowing the cures to all known diseases, and the answers to all the major scientific problems that have perplexed mankind for the past few thousand years. Unfortunately, however, he forgot all of this vital information just before he learnt to speak, so it was rather wasted.
Instead, at the age of six he decided to learn to play the cello; and has spent the years since trying to do so. These days, he spends most of his time travelling around the world playing concerts, and eating large meals. He has made many recordings ­ including music by four of the composers featured in this book ­ and, as well as playing concertos with orchestras, enjoys equally giving recitals with piano, playing chamber-music with friends and giving concerts for children.
He is also Artistic Director of a course for young professional musicians in Cornwall, and has fun pointing out all the mistakes they're making. Steven lives in London with Pauline (who's been putting up with him for about 25 years now) and their son Gabriel (who's only been putting up with him for sixteen years, but is already showing the strain) ­ as well as their hamster Speedy, who sleeps most of the day anyway, and is therefore quite tolerant.
In 1998, he (Steven, not Speedy) was awarded a CBE, since when he's been trying to convince everyone around him how important he is.
Pyotr Ilyich Tchaikovsky
(1840-1893)
… Most of his hair is gone, and the bit that remains is as white as Russian snow. He has a neatly trimmed white beard and moustache; his face is deeply wrinkled, and his teeth are yellow. (In fact, within a year or two, he will lose a tooth or two, meaning that he'll speak with rather a strong lisp; that will make his speech rather hard to understand, even for Russians ­ much to his distress.) He is impeccably dressed, and his voice is soft and warm; his eyes are soft and warm too ­ dark brown, with a clear and trusting expression…
Tchaikovsky will work from 9.30 until one o'clock. After that will come lunch, the main meal of the day; and then a walk of exactly two hours. (An hour and fifty-five minutes isn't enough ­ Tchaikovsky is sure that he needs precisely two hours for the sake of his health.) He has to be alone for this, because he's still composing in his head. The only problem is that the local children know that he's a soft touch, because he loves children, and also because he loves to give his money away; so they will probably ambush him and beg for coins until he gives in and they run off, satisfied.
Afternoon tea is at four o'clock; Tchaikovsky will read the papers as he sips, or talk to guests if he has any. (He prefers to be alone while composing his major works; but if he's just putting the finishing touches to a piece, or composing something small, he may invite some close friends to keep him company.)
From five until seven, he'll be busy again, writing down the ideas he's had on his walk. And then, finally, work is over for the day, and he'll relax, maybe going for another stroll, with a friend this time; or playing the piano, either by himself or with the friend. Supper follows, and then letter-writing or reading if he's by himself, or cards if there's company, before he goes to bed, reading some more until it's lights out and sleep.