"Does anyone really care about my non-musical enthusiasms? Oh well – here goes, anyway:"
The Marx Brothers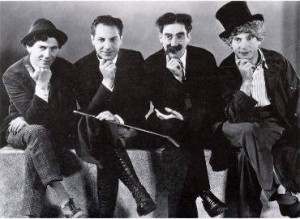 "I fell in love with the Marx Brothers' films when I was about thirteen, and have remained an ardent fan ever since – especially of Harpo's. He is like an angel fallen to earth! I was thrilled when, several years ago, I met Harpo's eldest son, Bill, in Los Angeles; he is a composer (as well as a pianist, and a totally charming, and extremely witty, peron), and he actually wrote a piece for me, for cello and harp! He also allowed me to put on Harpo's coat – of the bottomless pockets; that was one of the great days of my life. (Up there with the day I met, and even played a bit with, Paul McCartney – but I must stop name-dropping…)"
Wilkie Collins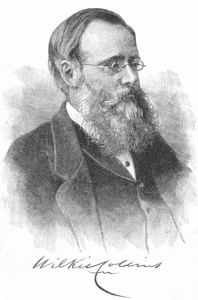 "This nineteenth-century novelist seems to reach across time and to be talking to his readers on a one-to-one basis. He transcends all fashion-barriers, I think – even more than his friend Dickens (whose novels I also adore). If you're interested, try reading his famous novel 'the Moonstone' – or his less famous one, 'Armadale' (my favourite – and, as I found out recently with great delight, Wilkie's own favourite too). The first hundred pages or so of 'Armadale' may seem a bit ridiculous, with a constant chain of coincidences; but once the marvellous anti-heroine, Lydia Gwilt, enters, it becomes (for me – and for all the friends to whom I've introduced it) the most unputdownable book of all time. One disappointment: when  'Wilkie Collins: An Illustrated Guide'  came out a couple of years ago, I bought it and immediately turned to the music section. And what did I find there? Rude words about both the cello and Schumann!!  Alas!  Ah well – nobody's perfect…"

R. C. Hutchinson
"I first came across this almost forgotten novelist (1907-75), whose books are all out of print, when, one Christmas, my middle sister Rachel handed me a book of his , 'Testament', with the dry comment 'good luck!' It IS quite a read – very long, emotionally searing and rather little humour; but there's something about his writing that is so compassionate, so wise and so profound that I would describe it as great literature. Again, it was a thrill to meet his family, whom I tracked down eventually after boring everyone I met with the question 'have you ever heard of R.C. Hutchinson?' until finally I struck gold, in the form of someone who knew his widow. Among his books (there are still a couple I haven't read),I'd recommend above all 'A Child Possessed' or 'Recollection of a Journey' – both extraordinary masterpieces, I think. (But maybe avoid 'Shining Scabbard' or 'Elephant and Castle' – when he's off, he's really off!)"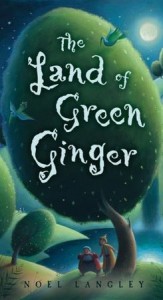 'The Land of Green Ginger'
by Noel Langley (1966 edition!) "One of my all-time favourite children's books. Faber's have just reprinted it – but unfortunately in a cut edition. The version I love most has a wonderful character called Nosi Parka, who has an exceedingly large nose (nothing wrong with that!). It is witty, charming, and full of phrases that I use regularly when I want people to think that I'm an original. I couldn't wait for my son to get to an age at which I could read it to him – and to my delight, he loved it too."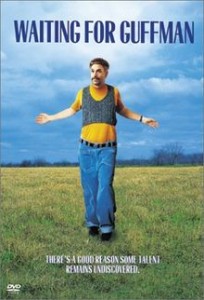 Christopher Guest
"I love lots of comedy films and TV series – but Christopher Guest's films are worth mentioning here, I think, because I feel that they  come under the heading of under-rated works of genius. Of course, 'This is Spinal Tap' is very famous – I must have watched it at least twenty times, and never get tired of it; but the  other films of his that I have seen, such as 'The Big Picture', 'Waiting for Guffman' and  'Best in Show' all seem to get funnier every time I see them. That's quite an achievement for a non-live art form."
FOOD
"This isn't an entirely original enthusiasm, I know – but I HAVE to mention it in this list, because it is such a consuming (as it were) passion. I LOVE it. If I didn't, I'd probably hate my life, travelling around spending large chunks of my life in hotel rooms; but the excitement of going to new restaurants all the time is a thoroughly mitigating circumstnce. I love all sorts of food – Indian, Japanese, Mexican. Italian, etc., etc. In fact, I love it so much that I have made a firm resolve never to eat anything else."

Fred Basset Cartoon Books
"I have always thought that dogs are much wiser than humans – and Fred Basset proves it. I especially love the earlier books (the ones written before the original creator died). I can read them again and again, and keep noticing new details in the drawings that make me laugh. And of course, teach me about the meaning of life."
New ones
Chris Lilley, creator of 'Summer Heights High' and 'Angry Boys'.
"Am I imagining things, or is this man a total genius? He plays glamorous teenage girls, problematic teenage boys, American rappers, old ladies, men and women in their 30s and 40s, and so on; and every character is totally convincing. Of course, he's a household name in Australia – but not in the UK or America; and he should be! I've never seen comedy anything like his. Should be required watching."
The books of Patrick Hamilton.
"Another of my favourite authors, William Trevor – whom I am lucky enough to have met a couple of times – recommended that I read Hamilton. What a wonderful author! Witty, wise, compassionate, dark but not depressing – he is a real find. I started with the trilogy Twenty Thousand Streets Under the Sky – a good place to begin."
And some Pet Hates:
"Liver, kidney, caviar, tinned tuna
Canned laughter on TV shows
Most 'classical crossover'
The music of Delius
Jet-lag
Not knowing how much to tip at restaurants, hotels,etc.
Musical snobs
Airlines that give me a hard time about the cello. (Used to include British Airways, but – touch wood – they are much better now.)
Officials at airports who won't listen when I tell them that the cello mustn't bump on the rollers at the security machines.
Various comments after concerts: 1) "Good job"; 2) "I can't understand why there was such a small audience"; 3) "Why DO you play on gut strings?"; 4) "Nothing to do with your playing – but I didn't like the piece"; 5)"How are you?" (with not one word about the concert I've just played)."