Jane Cowan (1915-1996). This is a LONG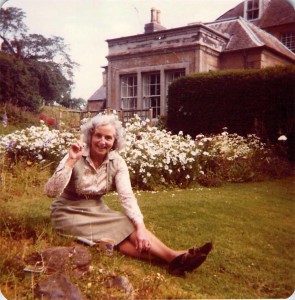 tribute to my former teacher – but I feel that I owe her that at least, since she was my formative influence, and an irreplaceable personality. Here goes:
Jane Cowan would have been 100 this June – on the 9th, to be precise. Alas, she is long gone – but now seems to be an apt moment to remember this extraordinary, difficult, charming, impossible, lovable character who was touched with genius. I studied with her from the ages of 10 to 17, frequently returning to play for her thereafter; so I can safely say that she was my most formative musical influence. I am not the only one who can claim that, though, by any means. Jane had the most extraordinarily powerful effect on those around her – once encountered, she could never be forgotten. There were those who fell totally under her spell and those who instinctively reacted against her; nobody remained unaffected by her unique charisma.
Unfortunately, the number of us who knew her is dwindling; so I feel that it is important to try to convey what was so special about her, and about her music (hopeless task!). Jane Harvey-Webb was born in Hampshire, the daughter of a doctor who was killed trying to save soldiers on the battlefield late in World War 1. Having been brought up in Edinburgh, Jane considered herself to be purely Scottish (although there was no trace of a Scottish brogue in her accent); it was appropriate that her future husband Christopher Cowan came from a landed Scottish family – even though he seemed to be the very model of an English gentleman. Jane studied the cello with the renowned Waddell sisters – inspiration for generations of young Scottish musicians – in Edinburgh. From an early age, she also came under the strong influence of Donald Francis Tovey, still considered by many to have been the greatest musicologist of the 20th century. A story she loved to tell was of her as a young girl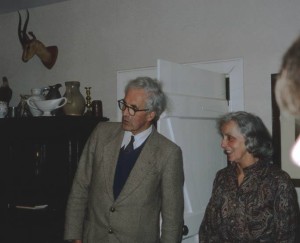 playing a Beethoven cello sonata, with a friend of Tovey's partnering her (at Tovey's request) at the piano. At the end, she turned round to her pianist with the words: 'Gosh – you are musical!' The bald gentleman at the piano thanked her politely; it was Pablo Casals! Later, she would study in London with Ifor James, and, significantly, attended several summer courses with Emmanuel Feuermann. Feuermann's approach to cello-playing had a very strong effect on her; he in turn seems to have been particularly fond of Jane. In her own teaching, she would constantly refer to the ease of his playing – and how he made everything seem so simple. Musically, though, Tovey remained the stronger influence, as well as Casals and other musician friends – notably the Hungarian violinist sisters Jelly d'Aranyi and Adila Fachiri, great-nieces of Joseph Joachim. (Jane, who described Jelly as her greatest friend, liked to imitate Adila talking about her erstwhile admirer Bartok. 'Darling Bela,' Adila would muse. 'How we hated him!')
On December 29th 1938 (Casals' birthday, though I'm sure that he was not feeling in celebratory mood that year) Jane married Christopher, an organist, conductor and teacher who was to have a distinguished career as head of music in such schools as Uppingham, Sedbergh and latterly Winchester College. The couple had three children – Francis (a multi-talented musician, both jazz and classical, who was tragically killed in a car accident a few months after Jane's death) and two daughters, Maeve and Lucy, who both became distinguished violinists. They now live and work in Vienna and Berwick-upon-Tweed respectively. Christopher and Jane also adopted three children of Georgian lineage, Henry, Helen and Irina Zarb.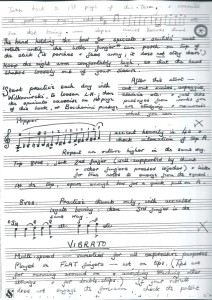 Although she had quite a career as a performer in her earlier years, it was as a teacher that most of us remember Jane. She possessed an extraordinary gift for inspiring her pupils; on a good day, one could find oneself playing better in a lesson than one could ever have imagined possible. Suddenly playing the cello seemed so utterly easy – as if one was flying. The music too would suddenly make perfect sense (jokes included – musical humour was very important to her). Somehow she would bring the great composers and their music to life in a way that made one feel that they were real, living people, talking to us through their music. She would get angry on their behalf if she felt that they were being misrepresented; meticulous about using good editions, she would insist that we take note of every marking of the composer's – and cross out most of the editor's suggestions. We would be required to justify any musical decision we made – Jane hated self-indulgence of any sort. Her main concern of all was with the art of phrasing; agogic accents – the stretching of time within a strict tempo – were sacred to her. Every phrase, every clause, had to have a centre, one note towards and away from which all others would point. Her technical approach could be quite analytical when it needed to be; but there was no 'method' as such – just a holistic, organic approach. She felt that relaxation was essential on any instrument (from time to time she also taught violinists and violists), and that we instrumentalists should use, not resist, the power of gravity. (She used to say that she pitied violinists and cellists before the time of Sir Isaac Newton!) One of her most telling images was that of 'wing bowing' – the right arm soaring like the wing of a bird. There was never any separation, though, between music and technique in her teaching. We always knew exactly why we were working to acquire any particular skill; any technical challenge had to be overcome simply because nothing should be allowed to get in the way of the music.
It was in 1967 that Jane and her former pupil – but by now close friend and co-director – John Gwilt began teaching at the grandly-titled International Cello Centre (actually occupying a rather small apartment in a quiet residential area – the ground floor flat, no 42 Ladbroke Grove, to be precise) in London. I had already been there occasionally to play in classes given by the centre's previous principal, Milly Stanfield (a devotee of the mostly absent director and founder of the centre, the American cellist Maurice Eisenberg. Eisenberg himself had been a student of Casals, whose teaching ideals he hoped to propagate through the centre.) Of those classes I remember nothing (to be fair, I cannot have been more than 8 years old); but once Jane and John arrived, the centre was transformed. I have no idea how often I played to Jane before she decided that I must leave my teacher at the time, a benevolent elderly lady called Mrs Pringle, without delay and come to the centre to study with her. It was an upsetting situation – even at the age of 9 or 10, I could feel how hurtful that would be to Mrs Pringle; and yet, Jane was irresistible! So I changed teachers, and from that time on was under Jane's strong influence. Being her student was a way of life. I would go to the Cello Centre every day after school, and at the weekends; I was there 6 times a week! Not only for cello lessons, though: Jane also saw to it that we studied music history and theory, sang together (mostly English madrigals) and even read Goethe's Faust and Racine in order to get a feel for German and French. Of course, there was also much chamber-music; in that way, my sisters Annette (violist) and Rachel (violinist) became as involved with Jane and her teaching as I was – she did have a habit of 'taking over' whole families! There was also a weekly 'cello choir', for which Jane made several marvellous arrangements.
A few years after Jane and John had taken over the Cello Centre, Christopher inherited Edrom House, a large, rambling mansion in a tiny village in the borders of Scotland (now owned by a famous super-model!). Jane lost no time in starting holiday courses there; these became very important events in the lives of all the children and students who attended them. Then, in 1974, she decided to move out of London, and relocate the Cello Centre to Edrom. (This meant that the village of Edrom, at least during term-time, consisted of about twenty inhabitants, a farm, a church, a school for down-syndrome children, and a cello academy – a tad unusual!) A group of us went to live there, for three annual terms of eight weeks each. It was extremely intense, to put it mildly; the number of full-time students ranged from four (too few) to twelve (too many). Jane's family, along with John Gwilt, rallied around and helped with the teaching and coaching, which was very welcome; but as ever, Jane's personality filled the air. She even did a lot of the cooking (a mixed blessing) and cleaning – dangerous, because it meant that she had a reason to hover outside our rooms while we practised, and could burst in at any moment. Her temper was legendary, uncontrollable – and unpredictable. One didn't even have to say the wrong thing (although that was all too easy to do). One morning, my two room-mates for the term and I were sleeping peacefully at around 8 am. Suddenly the door burst open, and a furious voice filled the room: 'Miners, hospital-workers and street-cleaners have been up since five, working so that you can study music. Now GET UP!' And the door slammed shut, leaving us in indignant shock. At other times, she might hear us playing in a way that she considered vulgar, and decide that we were going to the devil; and an exorcism would follow. But, although life at Edrom wasn't always easy, we all learned so much…
Jane was as passionate about early music, from organum onwards, as she was about music of the 18th,19th and 20th centuries. Many of the best-known players of original instruments of around my age came under her influence as students; in fact, it's probably fair to say that she was partially responsible for the whole revival of interest in 'authentic' performance – ironic, since she was so suspicious of the movement as a whole. She had passionate musical loves, and passionate hatreds too: Corelli and Couperin were IN (woe betide us if she felt that we didn't know enough about Couperin!); Vivaldi and Telemann were OUT (an attitude I've only managed to escape in the last few years). For Jane, who had evidently been brought up in a rather 'old-fashioned' atmosphere, music and morals went hand in hand. She hated Wagner – far too sexual – and hadn't much time for Bruckner or Mahler; on the other hand she worshipped Faure (good thing she didn't know too much about his private life!) and introduced us all to the matchless glories of his music – one of the many legacies for which I shall always be grateful.
For Jane, in music as in life in general, the words 'it doesn't matter' didn't seem to exist. For her teaching, that resulted in fervent convictions that would leave a lifelong impression on her students. Her attitude to intonation, for instance, was typically uncompromising. For her, there was keyboard intonation, and then there was expressive intonation – and woe betide the string-player who opted for the former. A leading-note – the seventh of the scale, just below the tonic – HAD to be played close to the tonic (ie sharper than it would be on a piano). 'When I hear a flat leading-note, my instinct is to kill!' she would say, eyes blazing. You can imagine what effect that would have had on a 10-year-old – to this day, I tend to play leading-notes almost a quarter-tone high! Her views on types of strings were equally adamant. She had been brought up at a time when almost all string-players played on gut strings (ie with a core made of sheep-gut); gradually, from around the time of World War 2, players started to turn to steel strings, which were cheaper, more piercing and (it was said) more reliable. For Jane, this was anathema; the less precise bowing that the steel strings encouraged, the use of constant vibrato and portato (each note receiving a new emphasis with the bow) that was necessary to keep the sound alive on steel, was tantamount to evil in Jane's mind. For her, music-making had to be above all natural and unforced; and in her passionately-held opinion, the use of steel strings led to an unnatural emphasis on projection and a constant, unrelenting intensity that went against all she believed in. Again, you can imagine how deeply these feelings permeated the minds and hearts of the many young people who were under her influence. (It is only in the past few years that I have been able to play a few pieces on steel – when I find it musically appropriate – without feeling overwhelming guilt! And of course, I still agree with her basic assessment of the gut/steel dilemma.)
Having talked about some of the difficulties of her temperament, I should also pay tribute to the astonishing charm that was part of her genius. She could be glorious company, her natural beauty irradiating every feature, with a wonderful twinkle in her eyes; she would tell stories that, while usually wildly exaggerated, were often hilarious. And she was deeply generous. She would give her all as a teacher to anyone, whether it be a major talent, a struggling amateur or a child from the local village; their level made no difference to Jane – she would set about bringing them to music with the same ideals, the same enthusiasm, the same love. She could teach at all stages. As I said, I went to her at age 10 – she was a marvellous teacher for a child. Cellists such as Steve Doane and David Waterman, however, went to her in their twenties, and had their playing transformed forever. Jane would get just as excited about progress in one of her amateur players as she would by a fine performance by one of her professional students. There was a danger in this, in that it was hard to keep a sense of proportion; we would be told that we played better than the most famous performers of the day – and it was all too easy (and tempting) to believe it. But provided one kept enough contact with the outside musical world, and remembered that the tiny world of Edrom was not the be-all and end-all of music, one could benefit immeasurably. And her teaching inspired players of all instruments, in all sorts of repertoire. She was an irresistible musical force.
Alas, Jane's last years were terrible. Having always suffered from a heart condition, she went for an operation in Edinburgh from which she never fully recovered. (She attributed her survival to a tape I had given her at the hospital of Faure's choral music – such was the importance of music to her very being.) Not long after that, her eccentricity became more marked, even more strange; her energy dwindled. In retrospect, perhaps the wild way of talking that was one of her chief characteristics, skipping constantly without warning from one subject to another, was an early symptom of the alzheimer's disease that was eventually to claim her. She ended her days in a local mental hospital. The last time my sister Annette and I saw her, she plainly recognised us, but could find no words to express herself; she became agitated. A nurse stepped up and handed her a handful of pills, which Jane swallowed obediently, though with a grimace – and then she was quiet.
But to end on a more cheerful note: those of us who studied her were privileged to enter a magical, idealistic world where music provided constant joy. I have been racking my brains to think of stories that might convey her essence. It is hard – her personality was her story. Every day brought fresh experiences, and new musical revelations. I remember so much about her: my early lessons, the glow of pride at her shout of 'well done you!' when I finally got something right; the opposite emotion when she would slap her thigh in fury, with a pained exclamation – 'ayee!' ; the feeling she could engender in us that anything was possible, if we approached the music in the right way; the conviction that playing an instrument wasn't work – it was fun, and a perfectly natural part of life. I still have my childhood/teenage teaching books, in which she would write during or after my lessons. They contain not just musical advice and technical exercises, but reproductions of famous paintings that she loved, pictures of animals, witty sayings – and surrealistic remarks. ('The coneys are feeble folk', she noted on one page – a Scottish saying, apparently,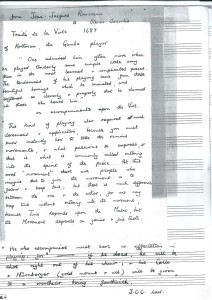 about rabbits; according to her, the little finger on my bowing-hand had been behaving like a coney, instead of commandingly steering my bow towards a smooth bow-change at the heel.) 'Thou shalt not bore,' was one of her most important musical rules. Well, she certainly practised what she preached, in life as well as in music – Jane never, ever bored anyone…
More information and reminiscences about Jane Cowan can be found at http://jane-cowan.com